Contents
Start
Films
Fruits of Boredom
The garage, therefore I am
The Dominion of the Hairdo
Awards
Press kits
Biographies
Links
Masthead
Intro
The garage, therefore I am.





Contents



If driving is a secular religion, then the construction of garages is the construction of temples. They compare with churches as sites of numinosity. From within and without garages are presented here as holy sites, in the face of which man must feel himself small and insignificant.

The film follows the aesthetics of the old fashioned slide show evening during which a single topic was to be illuminated by a multitude of individual images accompanied by the photographer's long winded commentary.

In parody the film examines the value given to cars, the fetish of a modern way of life gone mad. The film can also be regarded as silly nonsense. That's one thing it has in common with its subject.



An excerpt from the script



"A mere glance in a simple garage-o-teque is enough. Just as in the lexicon of church history there are discoveries, analogies and angelic logics: the Bronze Age as garage, Noah's Ark as garage, the catacombs as garage, the scholastic cloister as garage, Cardinal Meisner as garage."

Awards



The Garage, therefore I am

won two prizes at the 4th

Düsseldorf Film Festival

on November 30, 2008

.

Selected not only by the Jury for it's First Prize, it was also the audience's pick as one of the best films of the festival.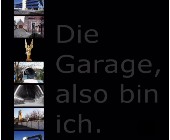 The garage, therefore I am.


(D 2006) 8'20"

Directed by:
Hanns-Marcus Müller
& Jörg Rühenbeck

Format: Mini DV
Film clip
(1'04")
Available in German only. For a translation of the commentary see "An excerpt from the script".


RealPlayer


low resolution
(80 Kbit/s, 597 KB)


Windows Media Player

low resolution
(221 Kbit/s, 605 KB)