Contents
Start
Films
Fruits of Boredom
The garage, therefore I am
The Dominion of the Hairdo
Awards
Press kits
Biographies
Links
Masthead
Intro
Fruits of Boredom





Contents



Fruits of Boredom

presents paper objects produced by students when class gets too boring… It treats these works as pieces in a mock exhibition concerned with their art historical context. Categorizing this as parody of high art films is both right and wrong. Right, because it is a satire of the conventions of the art industry and the culture of art criticism. Wrong, because these objects deserve the attention the film devotes to them. Set in the right light they reveal a subversive, even anarchic energy, undefeated by educational institutions. Schools need to reckon with the creativity they contain.





Awards



Früchte der Langeweile, the German preview version of

Fruits of Boredom

, was awarded

'Best Film'

at the 2nd Annual Düsseldorf Short Film Festival 2004.

At the 13th Annual Rüsselsheim Filmfestival 2006

Früchte der Langeweile

was chosen by the audience as the winner of the

2nd prize

.

The North American premiere of the English version of

Fruits of Boredom

took place in Los Angeles on December 4, 2006. The jury of the 5th Int'l Fest of Cinema & Technology awarded the film a

2nd prize

(Runner Up) and an

Honorable Mention

.



An excerpt from the script



"A singular jewel of the exhibition, indeed its virtual art-historical sensation, is this stirring group of human figures in singed synthetic coffee sticks, entitled 'Better Living.'

Perhaps only in late Picasso is such distinct seriality combined with such distinct senility and, in contrast with Penck or Giacometti, the origin of these utopian harbingers of strict stitchlessness lies undeniably in the spirit of evaporated milk.



Man is no more than a stir stick in the cold coffee of his self-certainty, and better living starts when we stop lying, thus, strictly speaking: when we are dead."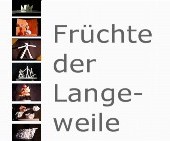 Fruits of Boredom


(D 2005) 8'02"

Directed by:
Hanns-Marcus Müller
& Jörg Rühenbeck

Format: Mini DV
Film clip
(1'18")
Available in German only.
For a translation of the commentary see "An excerpt from the script".

RealPlayer


low resolution
(80 Kbit/s, 724 KB)
high resolution
(225 Kbit/s, 1942 KB)


Windows Media Player

low resolution
(96 Kbit/s, 844 KB)
high resolution
(496 Kbit/s, 2335 KB)